Alice Urbankova, MUDr, DDS, PhD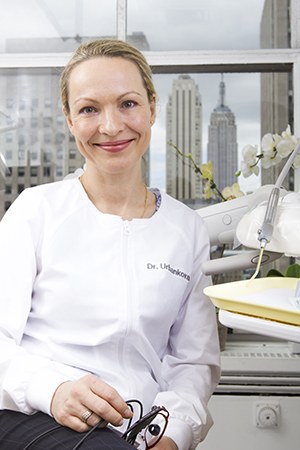 Dr. Urbankova's philosophy as a clinician is unique and was developed through years of teaching dentistry, conducting clinical research, and is soundly based on understanding clinical science.
Dr. Urbankova practices artistic, minimally invasive techniques. This approach is founded on conserving your tooth structure rather than radically removing it. Minimally invasive dentistry follows a new paradigm in dentistry, as it requires minimal surgical intervention, and has long-term benefits. Rather than invasive treatments that often lead to loss of tooth structure, complications, tooth loss, and possible overall health problems, minimally invasive dentistry's goal is to preserve your teeth and leads to a prolonged life-span of the patient's natural smile. Dr. Urbankova's clinical practice of dentistry is sure to bring a naturally beautiful, healthy and lasting smile. As an educator understanding the importance of teaching high quality dentistry to her students, she maintains the same standards for herself. Dr. Urbankova believes that tooth intervention must be kept to a minimum. Within that philosophy she developed and practices unique noninvasive additive techniques in the area of cosmetic dentistry that do not alter original tooth structure. See more for yourself.
Dr. Alice Urbankova is a graduate of Columbia University College of Dental Medicine. She began her full-time academic career at Columbia University College of Dental Medicine, in the Division of Operative Dentistry. Besides teaching students operative dentistry using traditional methods, she became engaged in teaching through simulation technology. She devised and implemented a virtual simulation teaching method in the pre-clinical curriculum to wide acclaim. Her research and expertise in simulation technology led to a consultancy with Image Navigation Ltd., and she trained and calibrated faculty at eight North American Dental Schools, and was a trainer and instructor at forty dental schools throughout North America and Europe in simulation teaching methods. She also became a consultant to IDEA Inc. and MOOG Inc., using both haptic technology for simulation learning and skill assessment. She was recruited to Stony Brook University School of Dental Medicine where she revised and implemented a new operative dentistry curriculum, with virtual reality simulation at its core. She became Division Director of Operative Dentistry, and besides teaching, clinical instruction, developing lectures and operative curriculum syllabi, she conducted numerous research projects validating simulation technology in dental education. She also became involved in research projects in areas on disease prevention and relationships to systemic health such as diabetes.
Dr. Urbankova has served as Chairperson of the Simulation Section of the American Dental Educators Association, and is a member of the Educational Research Section of the International Association of Dental Research. She has lectured internationally, and is frequently an invited lecturer at international conferences such as the Association for Dental Education in Europe. She now holds an appointment as Clinical Assistant Professor at New York University College of Dentistry. Dr. Urbankova has devoted her teaching and academic career to promoting excellence in operative dentistry and improving teaching methods through virtual reality simulation technology. Her clinical work has focused on minimally invasive treatment modalities.
In addition to her DDS from Columbia University, Dr. Urbankova holds the Doctor of Medicine degree (MUDr), with a Specialty in Dentistry from Palacky University, Olomouc, Czech Republic, and a PhD from Palacky University, Olomouc, Czech Republic for her dissertation, "The Role of Simulation Technology in Pre-Clinic and Clinical Operative Dentistry Performance, and Dental School Admissions: A Novel Method for Identifying Non-Cognitive Skill Development Potential."
Besides her wide range of medical and dental training, she finds that the arts and its various forms – painting, sculpting, photography, jewelry design and fabrication—are an inspiration for methods to achieve cosmetic dentistry. She brings a unique approach to dentistry combining art and science.
Do you want to know more about Dr. Urbankova's minimally invasive dentistry and how she can help you to preserve your teeth? Seeing is believing! Click Look Book for more on minimally invasive treatments in esthetic dentistry and how tooth enamel can be preserved and imperfections or defects minimized.
Selected Publications
Honors
National Presentation of Doctoral Research Studies Competition at Palacky University, Olomouc, Czech Republic. Urbankova A., Engebretson S. The Use of Haptic Technology to Predict Pre-Clinic Operative Dentistry Performance: A Novel Method for Identifying Non-Cognitive Skill Development Potential. – Second place in award for doctoral work competition, Palacky University, Olomouc, Czech Republic, 2009
Award from Journal of Dental Education for "The Best Manuscript in Educational Methodologies" for the "Changing the Learning Paradigm: Evaluation of Two Dental Simulators, Computer-assisted Simulator vs. Traditional Simulator" Jasinevicius T., Landers M., Nelson S., Urbankova A., J of Dental Education 2004; 68/(11):11251-62, 2004
Abstracts
Urbankova A., Engebretson S., Haptic Pre-Test as a Predictor of Early Student Pre-Clinic Performance – Prospective Study, IADR 2011 San Diego – March 19, 2011, Abstract # 1592
Urbankova A., Gu Y., Engebretson S. Impact of Haptic Simulation on Skill Development of Handpiece Naïve Dental Students - ADEE 2011 37th annual meeting in Anatalya, Turkey, September 7-11, 2011 Abstract #78
Urbankova A., Engebretson S., Computer-Assisted Dental Simulation as a Predictor of Pre-Clinical Operative Dentistry Performance – ADEA San Diego, March 13, 2011, J Dent Educ 2011;75(3):S47-S52, Abstract #277
Urbankova A., Engebretson S., Using A Complex Haptic Task To Predict Pre-Clinic Operative Dentistry Performance, ADEE 2010 36th annual meeting in Amsterdam, Netherland, August 26-29, 2010, Abstract #35
Urbankova A., Engebretson S., Haptic Simulation and Assessment of Learning Curve in Dental Education, ADEA 87th Annual Session and Exposition, Washington DC, February 27 – March 3, 2010, J Dent Educ 2010;74(2):149-210, Abstract #223
Urbankova A., Schafer M., Kluchman D., Munarov E., Gu Y., Evaluation of Composite Resin Materials – Novice Operator Perspective, ADEA 87th Annual Session and Exposition, Washington DC, February 27, March 3, 2010, J Dent Educ 2010;74(2):149-210, Abstract #224
Urbankova A., Nasti A., The Use Of Caries Simulated Teeth in Pre-Clinical Operative Dentistry Education – Differences in Student Performance, ADEA 87th Annual Session and Exposition, Washington DC, February 27, March 3, 2010, J Dent Educ 2010;74(2):149-210, Abstract #227
Urbankova A., Engebretson S., The Use of Haptic Technology to Predict Pre-Clinic Operative Dentistry Performance, and Perceptual Ability: A Novel Method for Identifying Non-Cognitive Skill Development Potential, ADEE 2009 35th annual meeting in Helsinki, Finland, August 26-29, 2009, Abstract #59
Urbankova A., Hadavi F., Lichtenthal R., Nickolas T., CAI-computer Assisted Instruction as a Psychomotor Predictor of Later Student Performance in Preclinical Operative Dentistry, 31st ADEE 2005 Annual Meeting in Athens, National & Kapodistrian University of Athens, Greece, Sept. 7-11, 2005, Abstract #28
Urbankova A., Hadavi F., Lichtenthal R., Howell S., Graham M., Students' Performance After Training in Various Preclinical Simulations Settings, ADEA 2005 meeting in Maryland, MD, March 8, 2005, J Dent Educ 2005;69(1), Abstract #145
Urbankova A., Hadavi F., Lichtenthal R., Lai I., Effect of Different Types of Dental Simulation Training on Students' Performance in Operative Dentistry, ADEA 2004 Annual meeting Seattle, Washington, March 10, 2004, J Dent Educ 2004;68(2):245-6 Abstract #120
Urbankova A., Hadavi F., Lichtenthal R., LeBlanc V., Computer-assisted Dental Simulator: Training of Visual-motor Skills in Pre-clinical Operative Dentistry, ADEA 2003 meeting San Antonio, Texas, March 10, 2003, J Dent Educ 2003;67(2) Abstract #78
Urbankova A., Virtual Reality – Helping Students With Different Learning Skills in Operative Dentistry, presented at ADEA meeting in San Diego, CA, March 1-6, 2002, J Dent Educ 2002;66(2) Abstract #86