How Do Laser Treatments Work?
FDA Approved Laser Technique for True Regeneration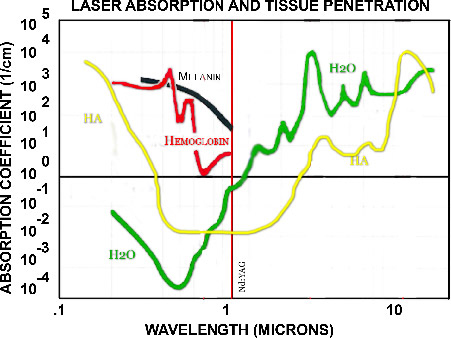 You can't change physics! The success of the LANAP protocol is rooted in laser physics and the unique interaction between the tissue in the mouth and the variable pulsed wavelength of the PerioLase MVP-7 1064 Nd:YAG dental laser.
The 1064 wavelength passes through water and hydroxyapatite; but is absorbed in melanin and hemoglobin. Simply put – the wavelength targets the diseased tissue without harming healthy tissue. The laser light penetrates 4mm beyond the tissue surface to effectively kill bacteria. Once the site is clean; the laser interacts with the hemoglobin to create a stable fibrin clot.
The LANAP Protocol for Periodontitis

Perio probe indicates excessive pocket depth
Laser radiation vaporizes bacteria, diseased tissue, pathologic proteins, and alerts the practitioner to the presence of tartar
Ultrasonic scaler and special hand instruments are used to remove root surface accretions
Bone is modified at time of surgery
Laser is used to form a gel-clot containing stem cells from bone and PDL
Reattachment of reté ridges to clean root surface, with a stable fibrin clot at the gingival crest to create a 'closed system'
Occlusal trauma adjusted
New attachment is regenerated
Proven with Human Histology