Why is LANAP Making the Difference?
Learn more about Laser Therapy in our Newsletter


true regeneration
Treating periodontal or gum disease is very challenging. Success is determined by the treatment's ability to minimize inflammation, decrease periodontal pocket depth and slow down or stop attachment loss.
If gum surgery is needed we recommend laser gum surgery over traditional methods. NdYAG laser allows for better healing, and better patient comfort and it promotes better bone health. Stimulating the bone with the NdYAG laser encourages the regrowth of bone lost to periodontal disease. This allows us to save teeth that have become loose, avoiding the need for extraction and subsequent procedures to replace the missing tooth. Treatment with LANAP® improves the health of your teeth and entire smile.
Traditional Osseous Surgery
In traditional gum or osseous surgery we use a scalpel to cut the gums and then fold or "flap" them back to expose roots to gain access and view the bone supporting the teeth. Damaged bone is then reshaped and grafted with graft material. The gums are also cut away to reduce the periodontal pocket to ideal 3 mm depth. The gums are then closed with sutures to allow for healing.
Laser Periodontal Therapy
In LASER therapy using the LANAP protocol the PerioLase MVP-7 is used instead of a scalpel and only a certified clinician may perform this procedure. The laser fiber is inserted between the tooth and gum, without cutting any gum tissue. Using specific settings the laser light energy targets only the source of inflammation without affecting any healthy gum tissue. No gum tissue is removed. NO scalpel and no sutures are used and there is no pain after surgery.
See the difference between traditional osseous surgery and LANAP laser periodontal therapy.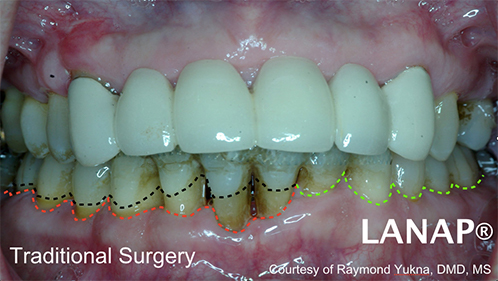 Left side of the patient's mouth treated with traditional osseous surgery and right side of the mouth treated with LANAP laser surgery
Chris speaks about the difference with LANAP
Peter speaks about the pain-free comfort when using LANAP