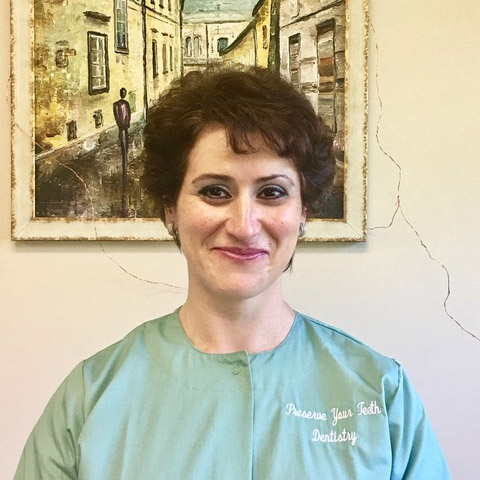 Sofia is a Registered Dental Hygienist and Certified Health Counselor. She has always believed in treating her patients like members of her family.
She has served the community for over 23 years and has worked alongside wonderful periodontists and general dentists. "I take great pride in providing our patients with individualized Oral Health Education, excellent clinical care combined with compassionate, and highly professional treatment. I am a firm believer in treating and healing the whole person."
"My ultimate goal is to preserve and maintain my patients natural dentition for life. With thorough and compassionate clinical care and professional guidance our goal it to prevent periodontal breakdown and need for surgical treatments and destructive tooth loss. We work with patients together as a team to achieve healing and stabile Oral Health."
Ms. Sofia completed her A.A.S. in Dental Hygiene from SUNY Farmingdale in 1993 and was awarded SUNY Farmingdale's "Ione Gilbert" outstanding student award and most caring Hygienist award at Northport Veterans Hospital. In 2005 she became a Certified Health Counselor of the Institute for Integrative Nutrition.
In her free time she enjoys painting contemporary and religious artwork, and volunteers her time as a proud member of The Lions Organization, fundraising to help people regain the gift of sight, and going to many kindergarten schools and impoverished communities to perform vision screening tests on the little ones.
Sofia is fluent in English and Greek language.