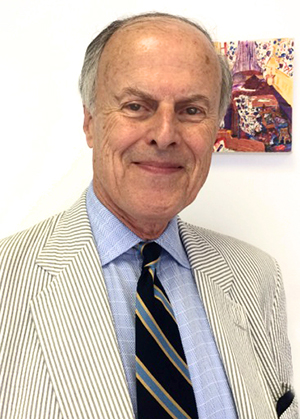 Dr. Joseph Rowan received his Doctor of Dental Surgery degree from Georgetown University School of Dentistry. He also received his certification in periodontology from New York University College of Dentistry, and is board-certified in periodontics. Dr. Rowan has been president of New York Academy of Dentistry, Chairperson of the American College of Dentists New York Section, Associate Attending in Periodontics at New York-Presbyterian Hospital at the Weill-Cornell Campus here in New York.
Dr. Rowan enjoys helping patients keep their teeth with minimally invasive periodontal treatments. He believes that, even with a genetic disposition to periodontal disease, you have to have the bacterial biofilm at the gum tooth junction to cause the problem—so excellent oral hygiene is critical. Dr. Rowan also likes to see control of gum disease as a risk factor for implant placement success. In order for the oral cavity to heal fully after an implant, many prosthetic surgeons today like patients to be free of infections before surgery, which includes untreated periodontal disease.
Dr. Rowan believes that even when periodontal disease is successfully controlled, the healing, while free of symptoms, does not mean that vulnerability to the disease is cured. Therefore, to prevent periodontal disease recurrence, it is crucial for the patient, after regaining periodontal health, to work out good daily oral hygiene along with an alternating recall maintenance program with the general dentist and the periodontist. This alternating maintenance will ensure the success of periodontal treatment.